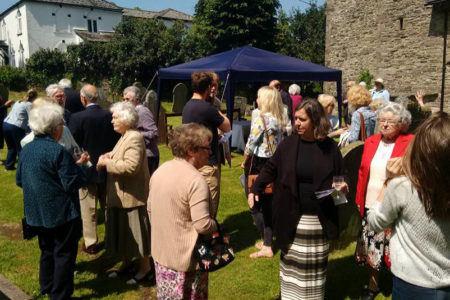 The Usk Ministry covers a wide area in mid-Monmouthshire in the lower Usk valley and comprises the historic parishes of
• Usk and Gwehelog; • Llantrissent and Llanllowell; • Llangwm Uchaf and Llangwm Isaf and Gwernesney and Llangeview; • Wolvesnewton; • Kemeys Inferior; • Llanbadoc; • Llangybi; • Tredunnoc
Clergy Team
The Clergy Team is lead by a full time Ministry Area Leader Rev'd Sally Ingle-Gillis and the other members of the team are Rev'd Graham Opperman and Rev'd Pamela Love who are both based in Llangybi and Rev'd Bob Greenland in Wolvesnewton – they are all self-supporting clergy who work part-time - and Mr Bill Savage our Lay Minister who lives in Llangwm. Please see contact details here.
Pastoral Visiting Team
We have an active team of lay visitors who work across the Ministry Area offering prayer and support and who can take home communion to those who are unable to receive in a regular service. If you would like to receive a visit or know someone else who would please contact Dee Bury on 012 9167 2371 or email
Youth Group
Our Youth Group for children in school years 5 – 9 meets on the third Sunday of each month in term time at 5pm at Usk Centenary Hall. With food, games, chat and craft activities we have a lively programme and all children are very welcome. For more information please contact Carol Southwell on 012 9167 2293 or email
This group is currently looking for a permanent leader to join the team and if you are interested please contact Carol.
Family Church
Meets on the 2nd Sunday of each month in term time at the Priory Church of St Mary, Usk. Family Church is a form of church for children and adults that involves creativity, celebration and hospitality. We have a welcome, a creative time to explore the biblical theme through getting messy; a short celebration time involving story, prayer, song, games and similar; and a sit-down meal together at tables. We welcome people of all ages, adults and children. For more information please contact  Carol Southwell on 012 9167 2293 or email
Church buildings
We have seven church buildings in regular use and there are also three buildings in the care of the Friends of Friendless Churches Trust: St Jerome's, Llangwm Uchaf; St David's Llangeview; and St Michael and All Angels, Gwernesney. The closed church buildings at Llanllowell and Llangwm are the responsibility of the Representative Body of the Church in Wales. The churchyards in all of these buildings remain in the care of the Ministry Area.
Church Wardens
For contact information for wardens of specific church buildings please go to the web page for that building.