The Ministry Area is led by:
The Reverend Kevin Hasler, a registered nurse, was Director of RCN Direct from 1996 until recently where he was Programme Director for the RCN Website and for the RCN Membership Information Systems Programme. He has some twenty years experience in the Royal College of Nursing of building award-winning teams and leading organisational change with some thirty years working in the healthcare setting.
Kevin has a Bachelor of Theology (Hons) degree from Bangor University, and is a Fellow of the Institute of Leadership and Management. He is an executive coach and supervisor of coaches and also a Magistrate and Justice of the Peace.
While still in full-time employment with the Royal College of Nursing, he was ordained in 2006 and served as a non-stipendiary priest in the Raglan Group of Parishes before becoming priest-in-charge of the Llangwm Group in April 2008. From 2012 he was a priest in the Raglan & Usk Deanery. He is a recognised Spiritual Director having trained in the Diocese in Prayer Guidance and Ignatian Spirituality.  His other interests are fly-fishing and reading biography and historical material with a special interest in the Tudor/Reformation period.
Kevin became Leader of the Usk Ministry Area on the second Sunday of Easter – 12th April 2015 – when he was inducted and collated by the Rt Reverend Richard Pain, Bishop of Monmouth and the Ministry Area was inaugurated.
Rev'd Kevin Hasler
Ministry Area Leader and Vicar
telephone: 078 3679 5753
email:
Revd Graham Opperman 
Assistant Curate
telephone: 01633 450811
email: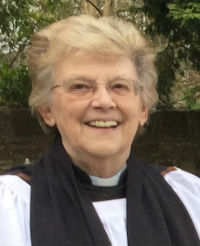 Revd Pamela Love
Assistant Curate
telephone: 01633 450347 
email:
Revd Bob Greenland
Assistant Curate
telephone: 01291 650231
email: